Properties
Can we be of assistance?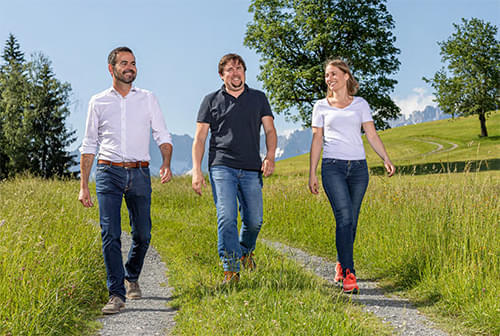 Send inquiry
Fill in the form if you wish to receive further information.
Ski In / Ski Out: New Chalets with Pool & Kaiser View
Property Description:
These two exclusive chalets will be sold fully furnished. Construction is scheduled to start in spring 2022 and completion is expected in December 2022.

Chalet 1
Living space approx. 225 m²
Additional rooms / basement approx. 57 m²
Garage approx. 49 m²
Deck/ Balcony approx. 177 m²
Garden approx. 54 m²
4 bedrooms / 4 bathrooms / spa / whirlpool
Price € 4.950,000

Chalet 2
Living space approx.277 m²
Additional rooms approx. 33 m²
Garage approx. 45 m²
Deck/ balcony approx. 187 m²
Garden approx. 120 m²
4 bedrooms / 4 bathrooms / spa / outdoor pool
Price € 5.650,000

Each chalet has its own garage with 2 parking spaces, as well as an outdoor parking space in front of the house.

Energy Efficiency Certificate is being processed.
Amenities:
The chalets are being constructed and finished with premium materials by renowned local craftsmen & companies. Highlights include:

- fully furnished
- exposed ceiling beams
- elegant bathrooms
- reclaimed wood
- oak floors
- oak doors
- elevator
- open fireplace
- large panorama decks
- spa area with sauna
- garage with rotating turntable
- ski in & ski out convenience, etc.
Location:
These two chalets are being built in close proximity to the ski slopes and the golf course, and within walking distance of the town\'s restaurants, shops and cafes, and will offer superb views of the Wilder Kaiser mountains.

Going, a quiet, little town at the foot of the Wilder Kaiser range, is part of the large Skiwelt Wilder Kaiser-Brixental ski area.

In the summer Going hosts a whole host of outdoor activities including hiking, biking, rock climbing or simply relaxing in pristine nature. Fed by crystal-clear springs in the Wilder Kaiser range, Going Badesee is one of Tirol's most beautiful natural lakes.

Going is about a 10-minute drive from Kitzbühel. Innsbruck, Salzburg and Munich are all about an hour's drive away.

Your strong partner.

Broad Offering
From small apartments to luxury properties, from city life to idyllic country houses. Our portfolio impresses with
regional diversity.

Happy Customers
In recent years we have been able to successfully broker more than 250 properties for our customers.

Years of experience
Overall, we have more than 26 years of experience in the real estate industry and therefore have the best contacts and knowledge of the market.

Authentic & Regional
We are authentic, grew up in the region and have deep roots

Distribution & Marketing
Through our partner SAVILLS, with over 500 offices worldwide, we have access to buyers all over the world. We are ranked top on international real estate portals.

Appreciation
We always focus on people and their individual needs. With our customers and partners, we maintain a very close and personal relationship at eye level.

Constant development
Our journey as a threesome began in 2018, and in 2021 we opened our second mainstay with Aurum Alps Invest. The team currently has seven motivated employees.