Properties
Can we be of assistance?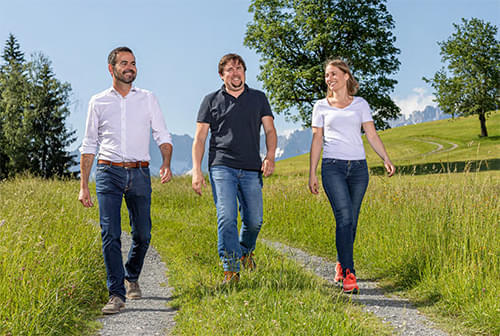 Send inquiry
Fill in the form if you wish to receive further information.
Designer Home on Lake Schwarzsee - 4 Apartments
Property Description:
This high-end designer unit has been built in close proximity to Kitzbühel's Schwarzsee.

Top 1 / ground floor, yard access:
Size: approx. 180m²
Deck: approx. 73 m²
Yard: approx. 186 m²
2 carport parking spots

Top 2 / ground floor:
Size: approx. 93 m²
Deck/backyard: approx. 26 m²
2 carport parking spots

Top 3 / Top Floor:
Size: approx. 89 m²
Deck/Balcony: approx. 23 m²
2 carport parking spots

Top 4:
Size: approx. 207 m²
Balcony/terrace: approx. 119 m²
Garden/outdoor space: approx. 198 m²
2 carport parking spaces


1/3 of the balcony and terrace areas are included in the living area

All four apartments are rented out at the moment.
Amenities:
The overall design of these luxurious units is modern chalet-style, finished with traditional materials. Features include:

- oak flooring
- natural stone
- Occhio lighting
- solid oak doors
- reclaimed wood ceiling beams
- reclaimed wood elements, wood paneling
- deluxe bathrooms
- open fireplaces
- BUS lighting controls
- designer kitchen
- oversized oak windows
- window shades
- etc.

If you are interested, we will be glad to send you the floor plans and detailed unit specifications.
Location:
This luxurious penthouse shares the space with only three other units, and has been built in close proximity to Kitzbühel's Schwarzsee and the golf course.

The Fleckalmbahn ski lifts are only a few minutes away by ski bus, and the center of town is a 20-minute walk.

With pristine Lake Schwarzsee, Gieringer Weiher and Steuerberg at your doorstep, great hiking and biking are just around the corner.

Kitzbühel lies nestled between Kitzbüheler Horn and Hahnenkamm, and is situated an hour's drive from following cities: Innsbruck (90k), Salzburg (80K), and Munich(120K).


Kitzbühel is the Alps' sports capital. What makes the town so unique is its charming blend of time-honored traditions and modern lifestyles. Kitzbühel's historic center boasts great restaurants, small cafes, trendy bars and discotheques, a casino and a movie theater, making it a place for all to enjoy.

Your strong partner.

Broad Offering
From small apartments to luxury properties, from city life to idyllic country houses. Our portfolio impresses with
regional diversity.

Happy Customers
In recent years we have been able to successfully broker more than 250 properties for our customers.

Years of experience
Overall, we have more than 26 years of experience in the real estate industry and therefore have the best contacts and knowledge of the market.

Authentic & Regional
We are authentic, grew up in the region and have deep roots

Distribution & Marketing
Through our partner SAVILLS, with over 500 offices worldwide, we have access to buyers all over the world. We are ranked top on international real estate portals.

Appreciation
We always focus on people and their individual needs. With our customers and partners, we maintain a very close and personal relationship at eye level.

Constant development
Our journey as a threesome began in 2018, and in 2021 we opened our second mainstay with Aurum Alps Invest. The team currently has seven motivated employees.