Properties
Can we be of assistance?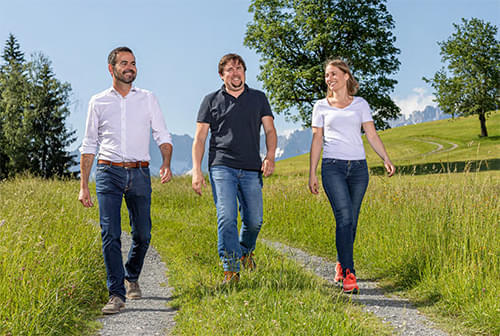 Send inquiry
Fill in the form if you wish to receive further information.
Serviced Apartments Close to the Ski Slopes
Property Description:
Luxurious apartments in a top location in Kirchberg in Tirol and just a few meters from the entrance to the Kitzbühel ski area.

Scheduled to be built in a prime location in Kirchberg near Kitzbühel in the summer of 2023, this investment is perfect for investors in the tourism sector as well as pure capital investors. If you are interested, we will be happy to send you details of the operations contract and yield forecasts.

37 luxury apartments
1 to 4 room apartments
Living space from 27.4 m² to 99.9 m²
Balcony/terrace from 6.7 m² to 93.3 m²
Purchase price from € 299,000.00 to € 1.569,000.00

An ownership title recorded in the Land Registry forms the foundation of this investment. The property itself is remarkable as well. The building boasts an attractive design that seamlessly blends traditional and modern styles and harmonizes with its surrounding environment. The property\'s sustainable development benefits the generations of the future, making it a sound investment. The project comprises a total of 37 upscale vacation rental units that are fully furnished and equipped to a high standard.

Serviced apartments offer the comforts and privacy of a home with the amenities of a hotel, including a breakfast restaurant, fresh bread delivery service, a wellness area with indoor pool, and an award-winning restaurant. There are also plans for a sports store and a ski and bike rental store in the building.
Amenities:
Highlights of this project include:

- Wellness area with swimming pool
- Lobby with reception
- 2 restaurants with decks and bars
- Award-winning Chef Simon Taxacher
- Storage rooms, sports shop
- 35 underground & 19 outdoor parking spaces
- District heating & photovoltaic system

- Professional rental management company
- Start of construction summer 2023 - end of construction expected at the end of 2024
- Ownership title recorded in the Land Registry
- Commission free purchase for buyers
- Good return including potential for appreciation
- No operating costs for the investor
- Worry-free ownership & professional management
- 100% transparency and protection thanks to developer contract law
- Upon request, tax advice and legal support well beyond closing
Location:
These apartments are being built very close to the ski slopes and within walking distance to the center.

The apartments are just a short walk from the town's restaurants and shops, the Gaisberg ski lift, the ski bus, a swimming lake, etc. Great hiking and biking starts on the doorstep.


Kirchberg in Tirol is situated amid the world-famous "Kitzbühel - Kirchberg" ski area and boasts over 170 kilometers of groomed ski slopes for all experience levels. Towards the south, Spertental valley extends all the way to the idyllic town of Aschau and its pristine nature reserve. In the summer, Kirchberg's swimming lake is a great place to swim, relax and have fun. Kitzbühel is only 6km away.

Innsbruck (95km), Salzburg (80km) and Munich (120km) are all about an hour's drive away.

Your strong partner.

Broad Offering
From small apartments to luxury properties, from city life to idyllic country houses. Our portfolio impresses with
regional diversity.

Happy Customers
In recent years we have been able to successfully broker more than 250 properties for our customers.

Years of experience
Overall, we have more than 26 years of experience in the real estate industry and therefore have the best contacts and knowledge of the market.

Authentic & Regional
We are authentic, grew up in the region and have deep roots

Distribution & Marketing
Through our partner SAVILLS, with over 500 offices worldwide, we have access to buyers all over the world. We are ranked top on international real estate portals.

Appreciation
We always focus on people and their individual needs. With our customers and partners, we maintain a very close and personal relationship at eye level.

Constant development
Our journey as a threesome began in 2018, and in 2021 we opened our second mainstay with Aurum Alps Invest. The team currently has seven motivated employees.