Properties
Can we be of assistance?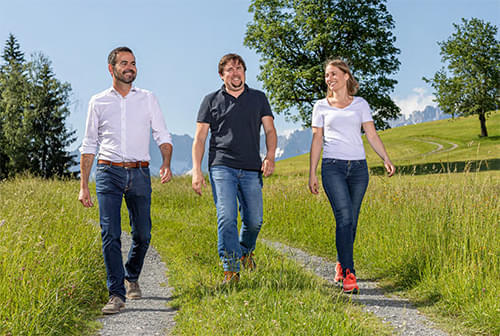 Send inquiry
Fill in the form if you wish to receive further information.
Modern & Sunny Apartments Close to Ski Slopes
Property Description:
This modern apartment building with a total of 10 units is in a picturesque, quiet, and very sunny location in Brixen im Thale is. The property was built in 2014 and is in very good condition.

All apartments are accessible by elevator. Each unit consists of a living/dining area with a modern built-in kitchen, two bedrooms, a bathroom with tub and shower, a guest WC, and a storage unit in the basement. Floors, tiles and window shades are all top quality.

Highlights include the spacious decks, balconies and gardens. The building has shared laundry and ski storage rooms for your convenience.

Some of the apartments are currently being rented but visits can be arranged ahead of time.

Top 1 - ground floor
Living/usable area approx. 84 m²
Deck area approx. 30 m²
Basement storage approx. 4,5 m²
2 bedrooms | 1 bathroom | 1 WC
Price EUR 720,000,-

Top 2 - sold

Top 3 - ground floor
Size approx. 84 m²
Deck area approx. 22 m²
Garden area approx. 87 m²
Basement storage area approx. 3.5 m²
2 bedrooms | 1 bathroom |1 WC
Price EUR 690,000

Top 5 - sold

Top 7 - 1st floor
Size approx. 84 m²
Balcony approx. 10 m²
Basement storage approx. 3.5 m²
2 bedrooms | 1 bathroom |1 WC
Price EUR 670,000,-

Top 8 - 1st floor
Size approx. 77 m²
Deck approx. 18 m²
Basement storage approx. 3.5 m²
2 bedrooms | 1 bathroom |1 WC
Price EUR 650,000,-

Underground parking spaces can be purchased for € 25,000,- each.
Amenities:
Highlights include:

- quiet & sunny location
- modern built-in kitchen
- high quality floorboards
- bathrooms with shower and tub
- Venetian blinds
- designated basement storage unit
- shared ski and laundry room
- bicycle parking
Location:
The apartments are in a quiet and sunny area of Brixen im Thale. The center of town can be easily reached on foot in about 10 minutes.

In the summer, Brixen im Thale boasts a nice recreation center with outdoor swimming pool, swimming lake, beach volleyball, Kneipp facilities, tennis courts, and a pretty fishing pond.


In the winter, Brixen serves as connecting point betwen the largest lift-linked ski area, the SkiWelt Wilder Kaiser-Brixental and the Kirchberg-Kitzbühel ski area. The slopes are only 30 meters from the house.

World-famous Kitzbühel is only a 10 minute drive away.

Your strong partner.

Broad Offering
From small apartments to luxury properties, from city life to idyllic country houses. Our portfolio impresses with
regional diversity.

Happy Customers
In recent years we have been able to successfully broker more than 250 properties for our customers.

Years of experience
Overall, we have more than 26 years of experience in the real estate industry and therefore have the best contacts and knowledge of the market.

Authentic & Regional
We are authentic, grew up in the region and have deep roots

Distribution & Marketing
Through our partner SAVILLS, with over 500 offices worldwide, we have access to buyers all over the world. We are ranked top on international real estate portals.

Appreciation
We always focus on people and their individual needs. With our customers and partners, we maintain a very close and personal relationship at eye level.

Constant development
Our journey as a threesome began in 2018, and in 2021 we opened our second mainstay with Aurum Alps Invest. The team currently has seven motivated employees.