Properties
Can we be of assistance?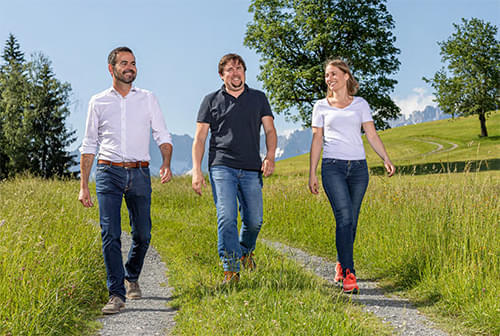 Send inquiry
Fill in the form if you wish to receive further information.
New Construction in Central Location - House B
Property Description:
This new development will include 3 residential buildings with 7 apartments each. Each building has its own separate staircase with elevator.

The 3 buildings share the basement with underground parking for 30 cars, storage compartments, and the bicycle storage room.

Top B1 - ground floor
Living/usable area approx. 117 m²
Deck approx. 54 m²
Garden approx. 86 m²
Basement storage approx. 5 m²
3 bedrooms / 2 bathrooms / 2 underground parking spaces
€ 940,600,-

Top B2 - ground floor
Living/usable area approx. 99 m²
Deck approx. 15 m²
Garden approx. 41 m²
Basement storage approx. 5 m²
3 bedrooms / 2 bathrooms / 1 underground & 1 outdoor parking space
€ 768,300,-

There are also 15 outdoor parking spaces and two playgrounds.
Amenities:
Highlights include:

- high-end finishes
- energy-efficient
- spacious decks and balconies
- bicycle room
- basement compartment
- children\'s playground
- underground garage
- elevator
- underfloor heating
- sun protection
- green facade and planted balconies
Location:
This new development will include 3 residential buildings in a central location in St. Johann in Tirol and will offer good views of the surrounding mountains.

Thanks to the apartments' central location, restaurants, shops, schools, swimming pools, etc. are all within walking distance. The beautiful Hinterkaiser nature & recreation area is basically on your doorstep and in the winter groomed cross-country ski trails are only a few steps away. There is also a ski bus stop around the corner.

St. Johann is the economic hub of the greater Kitzbühel area and has an excellent infrastructure. Kitzbühel is only approx.10k away.

Your strong partner.

Broad Offering
From small apartments to luxury properties, from city life to idyllic country houses. Our portfolio impresses with
regional diversity.

Happy Customers
In recent years we have been able to successfully broker more than 250 properties for our customers.

Years of experience
Overall, we have more than 26 years of experience in the real estate industry and therefore have the best contacts and knowledge of the market.

Authentic & Regional
We are authentic, grew up in the region and have deep roots

Distribution & Marketing
Through our partner SAVILLS, with over 500 offices worldwide, we have access to buyers all over the world. We are ranked top on international real estate portals.

Appreciation
We always focus on people and their individual needs. With our customers and partners, we maintain a very close and personal relationship at eye level.

Constant development
Our journey as a threesome began in 2018, and in 2021 we opened our second mainstay with Aurum Alps Invest. The team currently has seven motivated employees.